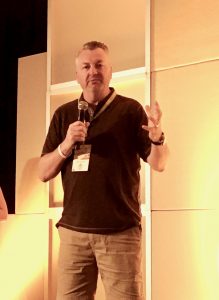 Ty Tribble is an Internet entrepreneur, author and Work At Home Dad who lives in Seattle, Washington with his wife, Richelle and two children, Emma and Tyler. Ty has been featured in Entrepreneur and Success From Home magazine and is considered by many as the Founding Father of Network Marketing Bloggers. Author of the book, 'Double Your Income with Network Marketing', Ty teaches lead generation strategies through social media and blogging to tens of thousands of Network Marketers around the world.
Testimonials:
"The MLM blogging game would not be the same without you (Ty Tribble) as the pioneer. I learned so much from you and everyone deserves to learn from you…"
Ray Higdon
RayHigdon.com (7 Figure Blogger)
"Ty, I have enjoyed your articles and believe you are one of the most experienced people in the MLM field. You have studied the companies and have benchmarked the best in different areas. When I look for news in the MLM area I come to your site."
Orin Woodward
Best Selling Author, Founder Life Leadership
"Ty Tribble is one of the few networkers out there who's really on top of the internet marketing world. Not only does he know how to generate tons of traffic, but he knows how to convert it into leads, cash, and distributors, which is an extremely rare and valuable talent. If you want to learn from one of the best, Ty's your man…"
Mike Dillard
Founder Magnetic Sponsoring & The Elevation Group
"As a true solutions provider Ty is someone who genuinely cares about the best interest of his prospects and business partners…he wants to help others get to the next level in their business regardless of what business they are in, Network Marketing or not.
Additionally, Ty has a range of experiences that helps people bridge the broad span of Warm Market to Cold Market to Internet Marketing."
Ann Sieg
Founder Renegade Network Marketing & Daily Marketing Coach
"I can say with confidence that Ty Tribble is a genuine leader in the field of home based business. Ty is also one of the few Network Marketers that has mastered the use of the Internet to help him build a business from home."
Carl Sorenson
EZLeadCapture.com
"Ty has a rare grasp of all of the elements of marketing on the Internet. He is a leader and innovator in his industry. Ty has always been ahead of the curve!"
Brad Doyle
Direct Selling Consultant
"Ty helped me to get my start in blogging which has turned into a very fulfilling and rewarding career. His training, guidance, and support, in the beginning of my journey, was truly life-changing and I'll be forever grateful to him for the time he spent helping me to plant my online roots."
Heather Stephens
Wise Owl Marketing
"As the MLM Watchdog I enjoy to the Max reading Ty Tribble's output on his blog. He writes complex stories into simple to understand and read output. This makes www.mlmblog.net one of my favorite sources to check with because of honest clear likable content. I encourage everyone to subscribe to his blog………TODAY! "
Rod Cook
MLM Watch Dog
"Ty Tribble owns the space where digital marketing and network marketing converge. Looking for a guru or mentor who'll get you up and running on the internet? Ty Tribble is your man!"
Dan Mitchell
Whole Customer