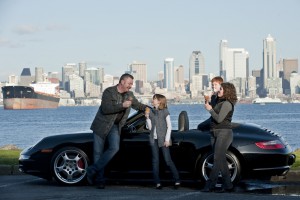 "Ty is an Internet entrepreneur who lives in Seattle, Washington with his wife of 22 years, Richelle and two children, Emma and Tyler. Ty has been featured in Entrepreneur and Success From Home magazine and was named as one of the '52 Brightest Minds in Network Marketing". Ty's MLM Blog is ranked 26th in the world for Small Business Blogs according to Blog Rank. His book, 'Double Your Income' is available through online and offline outlets including Amazon.com.
Message from Ty:
If you are someone who is looking to launch your business online, I am taking on a very small number of students who would like to build a brand and attract prospects that want to buy from you. We look at your current business and develop a specific online strategy to help you accomplish your goals.
"Ty Tribble is one of the few networkers out there who's really on top of the internet marketing world. Not only does he know how to generate tons of traffic, but he knows how to convert it into leads, cash, and distributors, which is an extremely rare and valuable talent. If you want to learn from one of the best, Ty's your man…"
– Mike Dillard, Founder of Magnetic Sponsoring, The Elevation Group and Self Made Man
Your multi-channel strategy will include:
Creating Your Brand
Social Media
Blogging
Lead Capture
Sales Funnels
Copywriting
I am helping these students learn to:
Create a marketing funnel
Build a list of targeted potential business partners and customers
Craft emails and web site copy that sells
Drive targeted traffic (the traffic strategy might be different for each student – this is why it is impossible to teach this in a simple video)
Here's what one student said after two coaching calls:
"Ty this training has been absolutely phenomenal. It has changed my entire outlook on life.  I came into this thinking I was going to get help setting up the systems I need in place but it's so much more than that.  You have shown me that it is possible for someone very new to do this and after only two calls.  I can't wait to implement all that you've taught me so that we can get to next week and keep things growing."

– Amanda
Alberta, Canada
My personal coaching includes:
4 Personal Coaching Sessions (1 hour each)
Free "Getting To Know You" 30 Minute Coaching Call
Complete Social Media Marketing Blueprint
A Professionally Designed WordPress Blog
Facebook Business Page
30 Days Email Coaching
There is a huge opportunity out there for  you and I know that this coaching can help you identify and capitalize on your unique situation with your company. I look forward to working with you.
Regular Price: $2,997 Special Price: $1,997