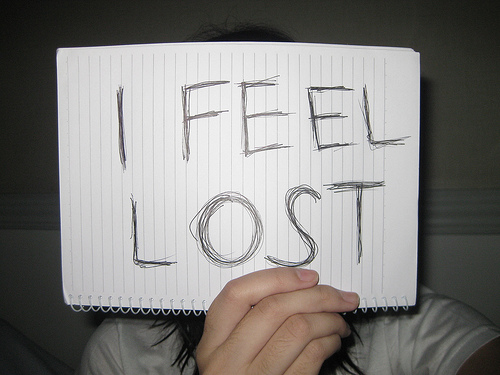 Read on if you'd like to learn why most people over 35 feel lost online most of the time…
Growing up, my Dad was a high level manager at the Boeing Company, where he worked in Boeing Computer Services.
Yet, in 1988 (the year I graduated from High School) we did not have a computer in our home.
Think about that.
One of the highest level executives at Boeing Computer Services didn't own a computer in 1988.
I was 18 that year and if I remember right, roughly 5 years later, I got my first (hand-me-down) computer.
It looked something like this:
Those were the days of AOL, "you've got mail" and chat rooms.
When it would take like 5 minutes and an awful screeching sound to get online, only to be kicked off 5 minutes later.
Welcome to my world.
I didn't own a computer until I was 23 years old.
Like most of you, I'm an immigrant in the world of technology.
Fast-forward to today…
Let's look at my 14 year old daughter, Emma.
Here's what Emma's computer(s) look like:
Emma has never experienced a home without a computer.
Emma is a native in the world of technology.
If you are frustrated when it comes to figuring out the Internet, welcome to the world of just about everyone over the age of 35.
You are not alone.
Add on the pressure of trying to learn how to build your business online and the frustration turns into overwhelm and paralyzed home business owners.
Ahhhh, but I wouldn't make you re-live the pain of feeling 100% lost online without at least offering a solution…would I?
Nope. I wouldn't.
See, just after 9-11-2001, I lost my "cushy" outside sales job and that was about the time that my wife discovered the art of selling our junk on eBay for profit.
One day I was looking over her shoulder and saw that she sold a dress that my daughter had outgrown for about 100 times the price that it would typically sell for at a garage sale.
Long story, short, we became the 2nd largest eBay sellers in the State of Washington and our business was featured all over the place, including Entrepreneur magazine.
I learned a ton about marketing online and a couple of years later, began to apply what I learned to the world of Network Marketing.
In January of 2003, I placed my first Google Adwords ad for Network Marketing (pretty sure that ad was the first Network Marketing ad ever on Google).
In October of 2003, I launched MLMBlog.net, one of the first blogs on the subject of Network Marketing…that blog still ranks at the top of Google.
Between 2003 and 2004, I personally sponsored over 100 people into my primary business and made a six-figure income shortly thereafter.
I learned through painstaking trial and error.
And today, I have a straightforward and fool-proof strategy for marketing any business online.
I'm a teacher at heart and I love spending time with students, helping them breakthrough and see the light at the end of the tunnel, which is why I love coaching people.
With a little guidance, you have the ability to create something that can change your life.
I have enough room for 2 or 3 new coaching students…
If you'd like to learn more, check out this link:
http://www.tytribble.com/coaching
Talk soon –
Ty Tribble