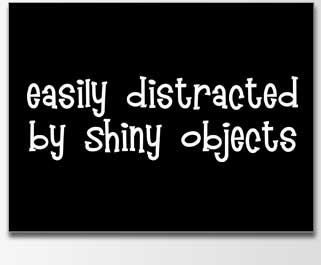 Before I tell you about the number one way to make moolah on and offline (from yesterday) I got something else on my mind first…
Admittedly, I have A.D.D.
I'm not officially diagnosed or anything but I have psychologist friends who will vouch for me.
As if I would want to get a "Ty officially has all of the symptoms of A.D.D." testimony.
Uh yeah, anyways…
So just about anything can distract me.
Shiny objects. Noises, Donuts.
You get the picture.
It kind of reminds me of new online marketers.
Most new online marketers tend to focus on the wrong stuff.
Like Blog Design or Twitter Followers.
And guess what?
It's not just the new online marketers that focus on the wrong crap.
I know plenty of marketers who spend hours looking at why one email was opened by 14.2% of subscribers while another email was opened by 9.4%.
A canned ham goes to the first person who can tell me why the number of people who open an email is a worthless stat.
Yep, a canned ham is up for grabs to the first person who can tell me what is the most important thing to focus on and track.
Mmmmm…a canned ham. Better hurry!
Talk soon –
Ty Tribble
http://www.ProsperityFactory.com
P.S. I forgot about the # 1 way to make moolah on and offline.  Dang it.  A.D.D. moment.
I'll fill you in tomorrow.